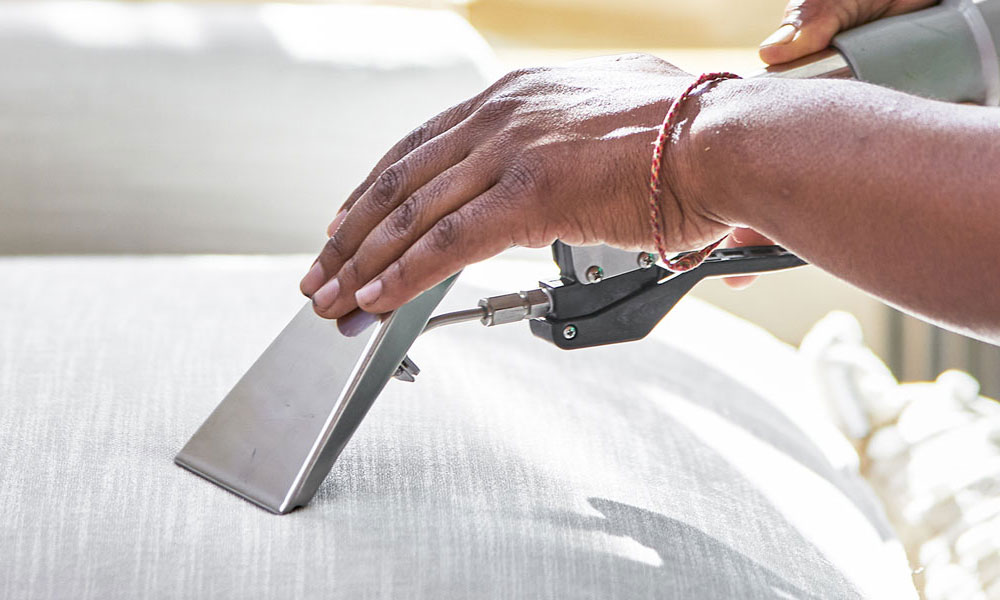 Upholstery Cleaning Services
When you're looking for Durango upholstery cleaning services, look no further than Chem-Dry of the Southwest. The upholstered furniture in your home like your sofas, love seats and chairs get a lot use and need to be cleaned too, just like your carpets and rugs. if you have pets and children, your upholstery suffers and needs to be cleaned even more.
Although dirt and stains are inevitable in a home, they don't have to be permanent. Upholstery cleaned by Chem-Dry of the Southwest will look and feel as good as new. Our Durango-based Chem-Dry of the Southwest technicians are friendly, professional and well-trained and their goal is to take care of your needs, exceed your expectations and leave you with cleaner upholstery and a healthier home. Call today for a free quote.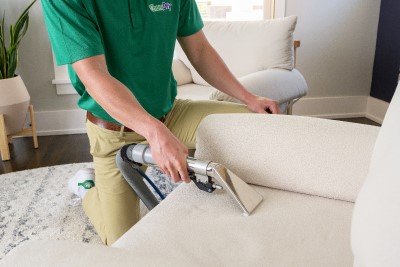 Our Upholstery Cleaning Process
Furniture cleaning doesn't have to use gallons of soapy water or harsh chemicals to be effective. Our Hot Carbonating Extraction cleaning process relies on the natural power of carbonation to achieve a deep clean. Millions of microscopic bubbles target dirt and grime deep in the fibers of your furniture and lift it to the surface where it is whisked away by our powerful extraction equipment.
The heart of this process is our Chem-Dry Green Certified cleaning solution called The Natural®, which is free from detergents, fragrances, and other harsh chemicals. Even better, our upholstery cleaning process uses around 80% less water than traditional steam cleaning, which means your furniture should dry in hours, not days.
Fight Upholstery Stains with Protectant
With the amount of use your upholstered furniture gets, spills are almost inevitable. Add kids or pets to the mix, and your furniture goes through a lot. Why not take a proactive approach to battle stains by having a protectant applied during your upholstery cleaning service?
Most furniture comes with a manufacturer-applied stain guard that tends to break down or fade over time. An application of our protectant can help restore it.
The protectant forms a protective barrier around upholstered furniture fibers. It will then repel a majority of stains, giving you a window of opportunity to soak up a liquid spill before it clings to the furniture fibers. Our protectants work with a wide range of furniture materials. One of our skilled technicians can advise you on the best choice for your furniture.
Defeat Stubborn Odors with Deodorizer
Refresh your clean upholstery with an application of our powerful Fresh-n-Free™ deodorizer. Our professional strength deodorizer reaches odors trapped within upholstery fibers and attacks them in multiple ways.
Fresh-n-Free causes chemical reactions that neutralize odors and also entraps odor molecules to easily extract them during our Hot Carbonating Extraction cleaning process. With this approach, odors aren't just masked – they're eliminated, leaving nothing behind but clean and fresh upholstery.
Our professionally-trained upholstery technicians are ready to help you with solutions to your upholstery cleaning needs. Call today for a free quote.
Upholstery Cleaning
Rated
4.9
/5 based on
94
customer reviews
Our carpet cleaning method uses a process called Hot Carbonated Extraction which uses carbonation to loosen and extract ground-in dirt from your carpet.
Customer Reviews
Cleaned a couple of sofas and chairs in detail, with much precision and care.
- by
Victoria
,
&nbspJanuary 17, 2018
"Great service from initial call through completed job. Owner provided an estimate on the phone and was able to make a crew available that day. Jared and Kameron cleaned a couple of sofas and chairs in detail, with much precision and care. They talked enthusiastically also about carpet cleaning, even though I have wood floors, so there was nothing to sell. Engaged, professional and high quality work. No doubt the first place I plan to call in the future."
Did the couch and ottoman and they looked fantastic! Thanks for the great service!
- by
Karen Berger
,
&nbspNovember 18, 2017
" With two boys ages 5 and 3 our carpets were in desperate need of a clean and to be honest I was ready to buy new carpet since they were stained. My husband surprised me by having them cleaned while I was away and had them cleaned. I couldn't believe how amazing they looked and all the stains were gone. They also did the couch and ottoman and they looked fantastic! Thanks for the great service!"
Get Your Free Upholstery Cleaning Quote Today!
Contact us to get a free quote and request a service appointment. We'll discuss your needs, provide you with a no-obligation quote and can begin the cleaning process at your convenience.