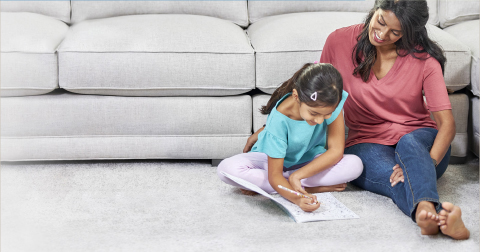 Your Healthy Home Starts Here
Professional Carpet & Upholstery Cleaning with Chem-Dry of the Southwest in Durango
We proudly serve our Durango community every day by helping our customers maintain a clean, healthy, happy home. Our one of a kind carpet cleaning process combined with our non-toxic, green-certified solution means that we'll leave your home not only cleaner but safer and healthier, too. We are able to harness the power of carbonation to literally lift the dirt and grime from the depths of your carpets and upholstery.
Tested and Proven Superior Results
We're committed to providing superior solutions and services that you can trust to keep your home clean, safe and healthy. Using a green-certified solution and our proprietary Hot Carbonating Extraction cleaning method, we are able to deliver a deeper, longer lasting clean that leaves you with peace of mind and a healthier environment for your family.
Removing Allergens from Your Home
Many people don't realize that carpets, rugs and upholstery act as giant air filters for your home, trapping allergens, dirt and grime and keeping them out of the air we breathe. But just like any air filters, they need to be properly and regularly cleaned to remain optimally effective. All of us, and particularly the 1 in 5 American (roughly 60 million) who suffer from allergies or asthma, are greatly impacted by indoor air quality and the amount of allergens trapped in our homes that can trigger an attack. Considering that and the fact that we spend an average of 90% of our time indoors, selecting a trusted professional with safe and healthy processes to clean your carpet, upholstery, area rugs, tile & stone, and granite counter-tops is an important decision and plays a key role in the health of your home and your family.
Dedicated to Home & Family
Our professionally-trained technicians here at Chem-Dry of the Southwest are dedicated to providing an outstanding cleaning experience and will treat your home and family with the respect you deserve. We strive to offer the best carpet cleaning service with great costumer service and industry-leading methods.
We are proud to serve the areas of Durango, Pagosa Springs, Cortez, Dolores, Silverton, Colorado
Carpet & Upholstery Cleaning
Rated
4.9
/5 based on
94
customer reviews
Learn More
Get a Free Quote Today!
Click below to access our form and provide us with your contact information and any other information about your needs. We'll contact you soon to schedule an in-home appointment so you'll be on your way to a cleaner, healthier home!
Frequently asked Questions
Chem-Dry's cleaning process is better and healthier than other methods for your carpet and upholstery cleaning. Chem-Dry's unique hot carbonating extraction carpet cleaning method uses the power of carbonation to extract more dirt and grime from your carpets, giving them a deeper and longer lasting clean. Our carbonated cleaning solution only requires us to use a fraction of the moisture other methods such as steam cleaning require. This allows your carpets to dry faster, typically in 1-2 hours.
Pet odors can linger on for months if not treated properly. As urine dries in the carpet and padding, what's left are millions of concentrated urine crystals that become even more pungent. Many companies just mask this odor. Chem-Dry uses a patented system, P.U.R.T.® (Pet Urine Removal Treatment) to explode the urine crystals and break down the enzymes which gets rid of the pet urine odor forever.
Industry experts suggest that homeowners clean their carpets every 3-6 months especially homes with kids, pets or if someone in your home has asthmas or allergies. Regular cleaning will not only improve your home's appearance, but it will eliminate germs and allergens, improve your home's indoor air quality and extend the life of your carpeting.
We use our proprietary hot carbonating extraction cleaning method, featuring our core cleaner The Natural, hen cleaning upholstery as well. The carbonated cleaning bubbles release dirt, soil, airborne allergens and spots from the upholstery fibers. Then, we use our extraction equipment to remove the cleaning solution, dirt, soil and airborne contaminants from your furniture, leaving it with a deeper, healthier clean than other alternatives.
No, Chem-Dry is not a steam cleaner. Chem-Dry uses carbonation to lift up dirt and grime from your carpets so we do not need to use the gallons of water that typical steam cleaners use.
All of the ingredients in Chem-Dry's primary cleaner, The Natural, are on the F.D.A.'s G.R.A.S. (Generally Recognized as Safe) list and are safe for your carpets, your home and your family. The Natural does not contain any soaps or harsh chemicals.
Most new carpets come with a factory-applied protectant but this wears off over time. Reapplying a protectant on your carpets can help resist stains and soiling, so your carpets will stay cleaner longer. Another reason protectant is a smart investment is that it slows the aging and wearing process and can extend the life of your carpets.
Our room sizes are based on 200 sq ft. If any of your rooms are over 200 sq ft, there may be an additional area charge.